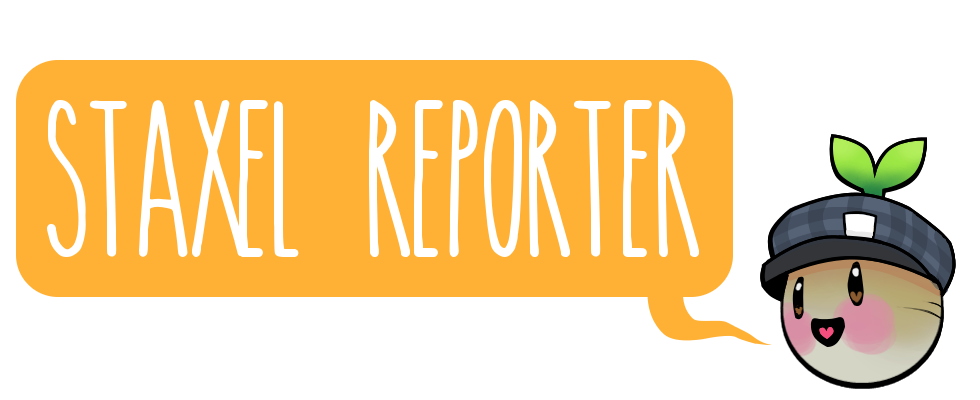 ---
Staxel Reporter – Issue #36
Hey everyone, in this issue of the Staxel Reporter we'll be talking about the first festival, 'Pumpking Feast' as well as take a quick look at the new and improved tavern. Enjoy!
---
Pumpking Feast
The first festival has been added to Staxel! I'm very excited to finally be typing up this article.  I've been excited for festivals for the longest time, and oh boy, what a festival it is! This festival is the first of many, and since it isn't in the public build yet I'll give you all a lil' sneak peek.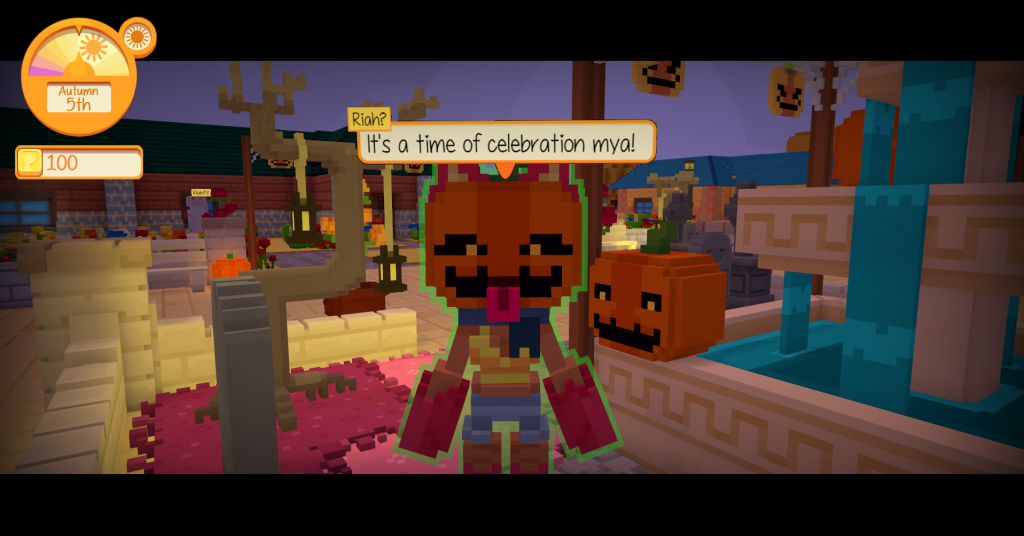 'Pumpking Feast' happens once per year on the island. The story goes that at this time of year, emissaries of the Pumpking pay the island a visit in order to prepare for a grand feast celebrating the harvest season. This happens every year early in Autumn. With that, prepare to have a blast getting involved with all the games and activities that come with Pumpking Feast!
There's so much to do, and only a couple of days to do it! I started with the maze myself, got lost a few times and then eventually found my way back to the entrance. Now, I'm not going in there again, but maybe you'll have better luck with it!
After that I decided to help out a bit. They were running short on sweets, so I made some toffee apples! One of the emissaries of the Pumpking gave me the recipe after all, it was the least I could do.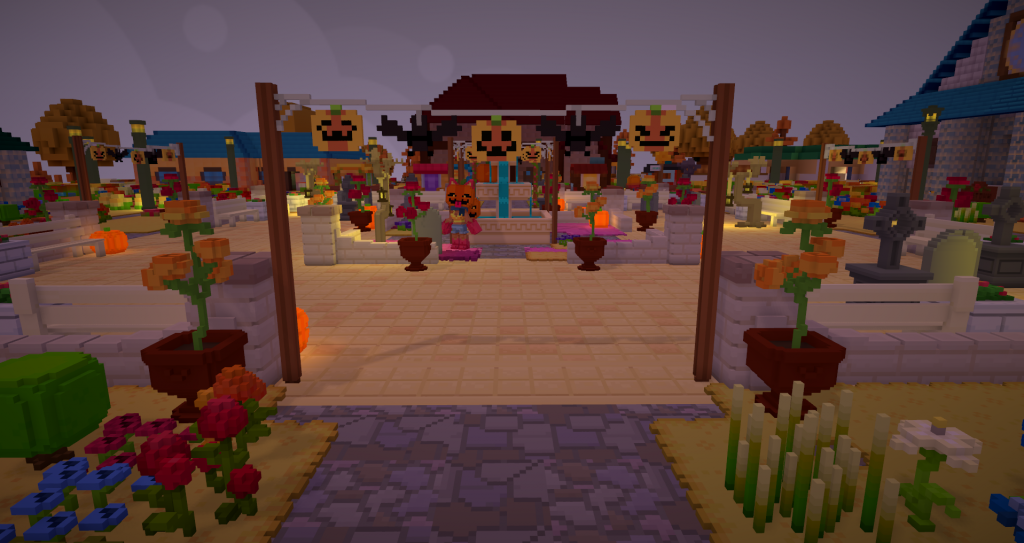 I finished up the day with some good ol' fashioned pumpkin carving! Now my Jack O' Lantern may not have had the best face, and sure, maybe I had to take a trip to the emergency room… but at the end of the day I had made a pumpkin with a face and so technically I still made a Jack O' Lantern. Okay? Next paragraph please.
It was a long day, but after getting involved with each activity I was rewarded with the Pumpking Emissary outfit. I was told very clearly this does NOT make me an 'official' Pumpking Emissary, but I'm not buying that. I would make an excellent Pumpking Emissary.
That's pretty much it for a quick overview on this festival. I encourage you to check it out in-game when it hits the public build! The festival begins on the 5th of Autumn and lasts a couple of days. Just remember, when carving Jack O' Lanterns, carve in a clean, dry and well-lit area.
---
Updated Tavern
Winters has been hard at work creating new structures and worldgen items to make the island more interesting. His latest endeavour has been to give the Tavern a complete overhaul! No longer will you have to spend your Friday nights sitting in a stuffy, outdated, and reportedly unhygienic establishment (the Standards Agency are still currently investigating claims of questionable cleanliness practices made by a certain blonde-haired, fastidious resident). It's time to bring a little class to this village!
We have a sneak preview of the new Tavern so take a look for yourself and see what you think.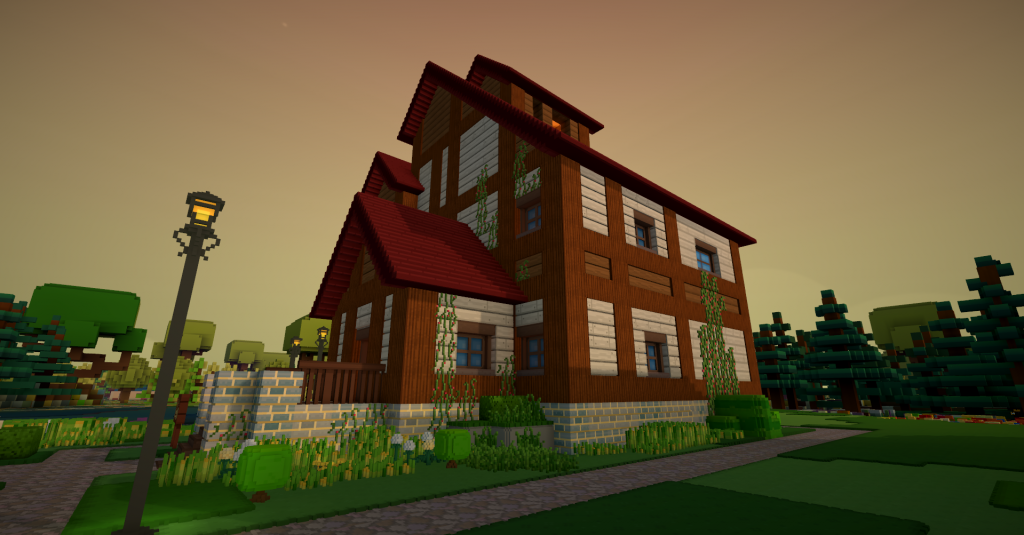 As you can see, the new hang-out spot is definitely a cut above the old one. It even has a room available for residents who, for whatever reason, can't spend the night at home.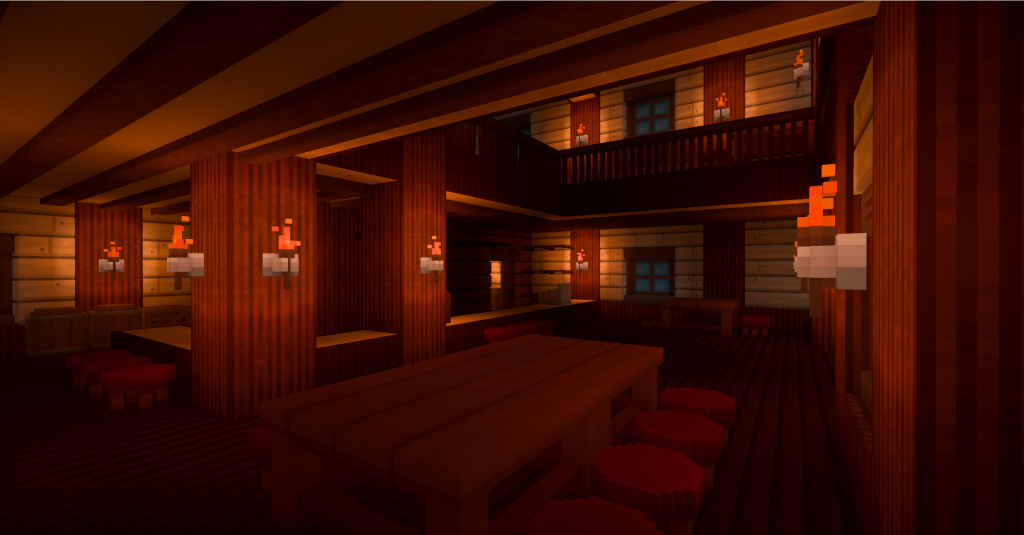 And just look at that interior! The best part is, everything is now up to code. The second story even has bannisters! There was just something a little worrying about having a second floor in a tavern that had no safety railing.
The new tavern is the first of many building overhauls you can expect in the coming weeks. It's not in the public build yet but should be relatively soon. We're so happy with it, and Rowan is too! Now his tavern is fixed up, the next step is keeping Farm Fan out of the good stuff.
---
That's it for this issue of the Staxel Reporter. You can grab 'Staxel – Sprout Edition' at www.playstaxel.com/store.
Or you can wishlist us on steam at http://store.steampowered.com/app/405710/Staxel/
Thanks for reading!
Subscribe